Restaurant variety is the spice of life
It's the kind of culinary experience you tell your friends about. The Mather offers a variety of restaurant venues with one end in mind—to deliver a dynamic culinary experience for customers craving everything from casual to classic.
We have created expansive menus to stave off boredom, integrate seasonal favorites, offer ever-changing chef specials, and create a stage for staff to perform in bold and brave ways. Choose from an enticing array of menu items where taste is the main ingredient, in each of The Mather's distinct restaurants:
Patent's Place
Delicious menu inventions feature American comfort cuisine with a twist. Our organization's founder Alonzo Mather would add these signature dishes to the many patents he was awarded during his lifetime.
Alonzo's
Much like Alonzo Mather's penchant for sailing on his treasured yacht, Toxteth, our menu travels on an exciting culinary tour through the Mediterranean region of Italy, France, Greece, and North Africa.
31
At the age of 31, Alonzo Mather devised an invention that earned him an award from the National Humane Society. We aspire to create menu selections in an upscale environment that fuel this innovative legacy.
Burnham's
Open for al fresco experiences throughout the year, featuring daily specials and Patent's Place menu items.
Georgian Lounge
An inviting, casual spot to meet up with neighbors for lighter fare or a before-dinner drink. The conversation and laughter flow freely around the fireplace and tempting menu of appetizers and small plates.
Props & Generations
BYO food and drink to Props, our rooftop patio, for stunning views with every bite. We can help you host a meal or celebration here or in Generations, our private room.
Culinary highlights
Our classically trained executive chef and pastry chefs keep abreast of the latest research on healthy eating and culinary techniques.
Our flexible Culinary Club Plan lets you customize a meal plan that works for you, with opportunities to entertain and savor our menu selections in a way that suits your lifestyle.
Ever-changing menus incorporate heart-healthy, low-sodium, and gluten-free selections.
Enjoy restaurant offerings in the comfort of your home with the CUISINE2GO program.
Our pastry team creates multiple sumptuous desserts daily, including gluten-free and sugar-free options.
We offer help with planning and catering events you host in your home or around The Mather.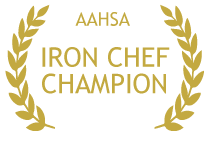 AAHSA: Iron Chef Champion
Iron Chef Champion
Awarded by the American Association of Homes and Service for the Aging (AAHSA).  In a competition among senior living culinary teams from across the US, The Mather team was crowned the 2009 Iron Chef Champion.
View All of Our Awards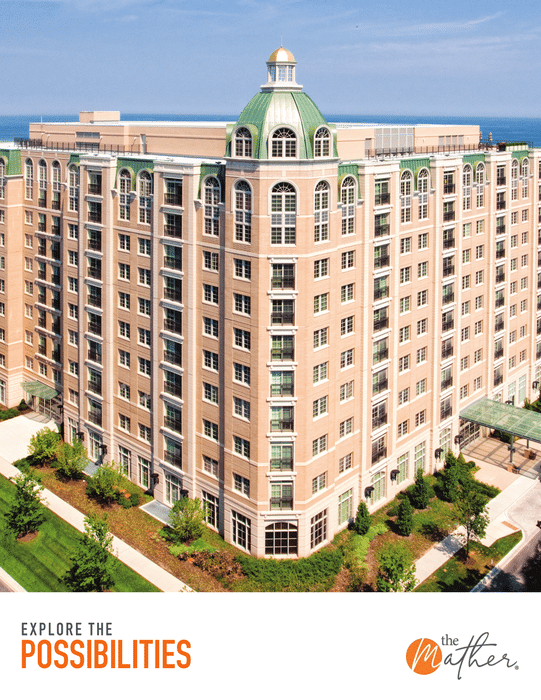 Discover life at The Mather
with photos, floor plans, and more
Take a detailed tour of The Mather from the comfort of your couch.
Get an inside look at our Life Plan Community
Review our monthly cost calculator
Explore apartment home floor plans
Upon submission, you will instantly receive the guide and get a copy in your email.