Let's live with confidence
Discover why a Life Plan Community
is where you should be
The Mather is a Life Plan Community (formerly called a Continuing Care Retirement Community or CCRC), which is a unique age-restricted setting where comprehensive wellness programs, services and amenities, and predictable monthly costs come together to make the adventure of aging a more rewarding one.
Simply put...
Life Plan Communities are retirement communities with an important added benefit: a continuum of care, which ensures that you can "age in place," having planned ahead in terms of access to additional services and the cost of long-term care. Think of it as peace of mind, should your health care needs change somewhere along the way.
How it works financially
When you choose a Life Plan Community like The Mather, you will likely pay an Entrance Fee. This can also be considered an investment because most Life Plan Communities allow you, your estate, and/or your family to gain back a large percentage of this fee. (At The Mather it's 90% refundable). You will also pay a Monthly Fee, which will vary depending upon the size of the home you choose, to cover daily living expenses and services.
An agreement between you and a Life Plan Community can assure you that you will have a residence and access to assisted living, memory support or dementia care, and skilled nursing, should you ever need it. Costs for higher levels of care are determined by the type of agreement you choose.
Learn More About Financial Plans
Financial security and peace of mind
We don't have a crystal ball. However, wouldn't it be comforting to know that in the years ahead:
You have a plan in place, and you'll continue to be in control of your lifestyle—no matter what happens?
You won't be a burden to family or friends because of unexpected health or financial issues?
If you do experience health issues, you've already made plans to receive quality care?
You've avoided the worry about unexpected changes in living expenses and health care?
Ultimately, financial security and peace of mind are the big advantages of Life Plan Communities. But beyond that, research has demonstrated that these retirement communities:
promote a dynamic lifestyle
support social involvement
help ensure proper health care
provide good nutrition
What's more, in a national survey conducted by Mather Institute, family members of residents living in Life Plan Communities (known at the time as Continuing Care Retirement Communities) were asked about their own retirement plans and desires for the future. The results were overwhelmingly positive, with 74% of respondents stating that they were interested in living at a Life Plan Community in the future and would recommend Life Plan Communities to others because of their family's positive experience.
Mather believes that a modern, well-operated Life Plan Community should include boutique, hotel-style amenities—beautiful spaces, great places to dine, interesting and edifying programming, and a fitness and day spa to keep you feeling wonderful and, most importantly, Aging Well!
Learn More About Lifestyle Advantages
While some people feel that moving to a "retirement community" is something you need to do, people who move to The Mather are moving here because they want to! And, quite honestly, one visit is all it takes to see why. The Mather transcends the typical Life Plan Community experience in countless everyday ways. You can read about many of them here, but some you have to experience for yourself.
Levels of care available
A Life Plan Community (formerly known as a CCRC) typically includes independent living, assisted living, dementia care, rehabilitation services, and skilled nursing care. The agreement you enter into with a Life Plan Community addresses the costs of various levels of care for life, providing lifetime protection for a predictable cost.
Does Where You Live Impact How You Age? Research Says Yes!
Compared to demographically similar older adults, Life Plan Community residents report:
greater satisfaction with life
more physical activity
increased personal connections
better self-reported health and fewer chronic conditions
Source: Mather Institute, The Age Well Study Report, 2018, TheAgeWellStudy.com.
Is a Life Plan Community for me?
Here are some questions you should ask while researching any Life Plan Community, including The Mather:
What services are included in the monthly service fee?
How much are the monthly fees adjusted if more services or care are required?
What is the Life Plan Community's history of monthly fee increases?
What happens if the fee increase is greater than the ability to pay?
Is the entrance fee refundable and if so, how much and when?
Who manages or owns the Life Plan Community and what's their experience and reputation?
What types of employee training programs are implemented?
Is there a resident handbook outlining policies?
Is there a residents' association and how does it function?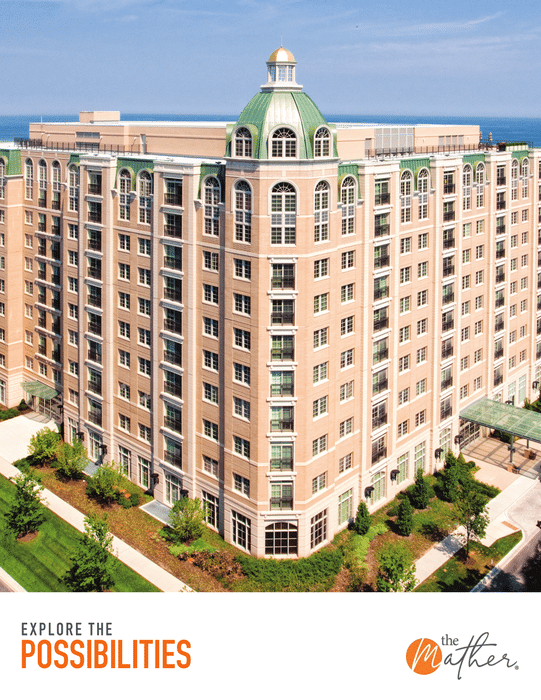 Discover life at The Mather
with photos, floor plans, and more
Take a detailed tour of The Mather from the comfort of your couch.
Get an inside look at our Life Plan Community
Review our monthly cost calculator
Explore apartment home floor plans
Upon submission, you will instantly receive the guide and get a copy in your email.