Get motivated to get exploring around Evanston
Location, location, location
The Mather is considered by many to be in the best location in the entire Chicago area—right in the heart of Evanston's vibrant North Shore community. In fact, a recent survey of older adults living in and around Evanston ranked location as the most important consideration when choosing to move to The Mather.
Your apartment home at The Mather will have you conveniently near good music and social, cultural, and sports activities available for your enjoyment year-round. Much of it within walking distance! Soon, you'll find yourself taking advantage of all the unique and varied options you'll discover just beyond your doorstep.
There's opportunity afoot
The Mather is truly steps from it all. According to www.walkscore.com, The Mather is located in a walker's paradise, reaching a walkability score of 94 out of 100. It's no wonder residents like to explore the vibrant neighborhood atmosphere. It's so easy!
Downtown Evanston awaits
35+ restaurants within four square blocks
Banks, places of worship, hair salons, bookstores, medical/dental offices, specialty shops, grocery stores, parks, hotels, train stations, coffee shops, and other interesting and eclectic services
Numerous recreational, cultural, and entertainment venues, including:
Northwestern University
Music Institute of Chicago
Evanston Public Library
Evanston Art Center
Evanston Farmers' Market
Dawes Park
Merrick Rose Garden
Shakespeare Garden
Evanston Historical Society
Annual festivals, including Evanston's World Arts & Music Festival, Custer Street Fair, and Evanston Chamber Artisan SummerFest
Downtown Chicago is a short car or train ride away, with Metra and CTA "L" train stations just three blocks from The Mather
More about Evanston
To find out more about the The Mather's vibrant surrounding community of Evanston, check out these online resources:
City of Evanston
Northwestern University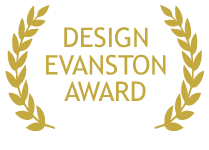 Design Evanston
Landscape Design. Interior Design
Awarded by Design Evanston, an advocacy organization promoting good design. Identifies significant aesthetic and functional improvements in the Evanston community.
View All of Our Awards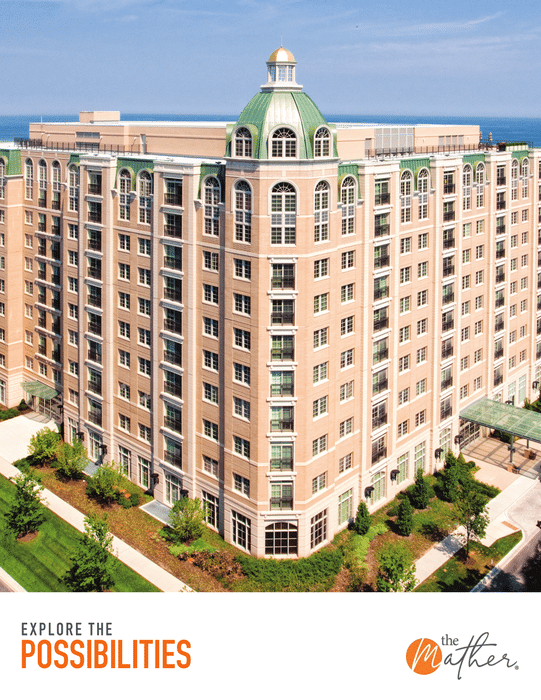 Discover life at The Mather
with photos, floor plans, and more
Take a detailed tour of The Mather from the comfort of your couch.
Get an inside look at our Life Plan Community
Review our monthly cost calculator
Explore apartment home floor plans
Upon submission, you will instantly receive the guide and get a copy in your email.