Let's look forward to looking forward
A continuum of living
The Mather offers a unique environment that weaves healthy living into every aspect of your life. We take pride in offering comprehensive wellness programs, services, and amenities designed to provide ways for adults 62+ to continue to make the adventure of aging better.
At the same time, we recognize the possibility that health concerns may arise. The Mather enables you to make a single retirement choice.
Designed for whatever the future may hold
The Mather Life Centre offers the latest in long-term care, based on research by Mather Institute, including:
Residential neighborhoods that provide a comfortable home for residents
Private suites with well-appointed finishes reflecting a new generation of design
Outdoor terraces incorporating garden programs that provide wonderful opportunities to enjoy fresh air while relaxing, exercising, or socializing
Collaboration with architects, gerontologists, and horticulture therapists who specialize in environmental design, to maximize wellness and quality of life
The Mather Life Centre is conveniently located within The Mather (425 Davis Street) on the second floor and a portion of the third floor, offering assistance with day-to-day activities, memory support, long-term care, and rehabilitation services, if ever needed.
Support every step of the way
The Mather Life Centre provides a full continuum of living choices to address potential future health care needs.
Assisted Living
Comfortable residential living is combined with comprehensive assisted living services, enabling residents to remain as independent as possible. Certified Nursing Assistants (CNAs) provide 24-hour assistance with daily tasks such as dressing, grooming, and medication reminders.
Spacious one-bedroom apartments are equipped with emergency response systems and safety features for comfort and peace of mind.
Three meals a day are provided in our full-service restaurants, Bistro 100 and 75 East.
Memory Support
Specialized private memory support suites are designed for those with mild to moderate Alzheimer's Disease or other cognitive impairments. Twenty-four hour supervision is provided.
Our person-centered approach to memory support emphasizes personal strengths to embrace each resident's individuality.
Skilled Nursing
Residents enjoy spacious private suites with large bathrooms and access to comfortable living room areas.
We have Medicare-certified suites; qualified stays can be reimbursed.
Professional nursing staff care for individuals requiring recovery support due to illness or surgery, concentrated rehabilitation services, or ongoing long-term care.
Age Gracefully
Rehabilitation Services
An array of rehabilitation services, including physical, occupational, and speech therapy, are offered at The Mather Life Centre on a fee-for-service basis or through Medicare B benefits.
What residents are saying...
The continuing care part of The Mather is something I think most of us believe we won't need–we'll never need–but it's nice to have there.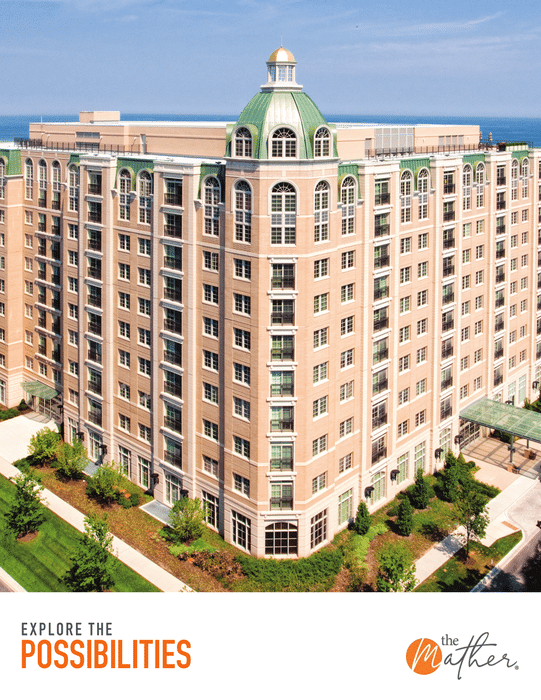 Discover life at The Mather
with photos, floor plans, and more
Take a detailed tour of The Mather from the comfort of your couch.
Get an inside look at our Life Plan Community
Review our monthly cost calculator
Explore apartment home floor plans
Upon submission, you will instantly receive the guide and get a copy in your email.